Enhancing Life Skills of Indigenous and Migrant Children in Colombia​
Improving access to education in rural Colombia
Today is World Youth Skills Day, started by the UN to celebrate and champion the importance of supporting young people to build skills for entrepreneurship and employment for their futures. This is in support of the UN's Sustainable Development Goal 4, "Ensure inclusive and equitable quality education and promote lifelong learning opportunities for all". 
We at Children Change Colombia aim to improve access to education in Colombia for children who may not otherwise have access to these opportunities. Some of our team recently visited one of our partner projects in La Guajira, where helping children to build their educational and technological skills for the future is at the heart of what we and our partners at El Origen are doing. This video will show you how the children there were able to learn and use new skills to support their futures.
In this short video, you will see how the children in La Guajira have embraced the O-Lab app, and with the support from great projects like this, they can really make the most of their abilities. The more we can support these children in their learning and skill-building, the more we can help them fulfil their potential.

Improving access to education with an offline learning app
This project aims to increase access to education within basic and STEAM (science, technology, engineering, arts and maths) subjects using the O-Lab app (an offline learning platform). The project targets indigenous and migrant children and young people living in poverty who are at risk of dropping out of school in the rural educational centres of La Guajira, Colombia.
The children that are involved in this project will improve their academic performance, technological literacy, and independent learning. Children Change Colombia and El Origen want to ensure that the most disadvantaged students receive the quality education they deserve and teach them life skills which will enable them to achieve their future ambitions. 
Currently, only 19 out of every 100 students from La Guajira finish secondary education and only five of them will go to university (DIAN, 2018). Indigenous and migrant children are amongst the most excluded from new technological learning and are core to Children Change Colombia, El Origen and World Youth Skills Day. This is why this project is so important and why we want to share the positive effects it has had so far.
Alison's Story

Hi, My name is Alison. I am 15 years old in the tenth grade. My project is about family businesses. This has led me to change my mind and my way of thinking, now I can imagine myself as a future entrepreneur, and also teaching people how to create their own entrepreneurial projects from their homes, so we can generate more employment."
Did you like it? Share it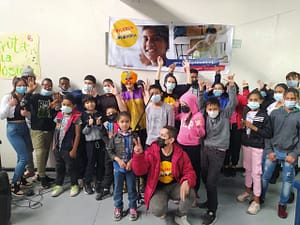 Our trustee talks about his visit to our project, located in the Santa Fe neighbourhood known as the "tolerance zone" in Bogotá
Read More
Visit our YouTube Channel